X-ray Satellites Monitor the Clashing Winds of a Colossal Binary
Two massive stars racing in orbit around each other have had their colliding stellar winds X-rayed for the first time, thanks to the combined efforts of ESA's XMM-Newton and NASA's Swift space telescopes. The stars' mega winds would likely destroy life on the Earth if it were happening in our solar system as the cosmic storms would be far fiercer than the stellar winds generated by our sun.
An O-type star is so luminous that the pressure of its starlight actually drives material from its surface, creating particle outflows with speeds of several million miles an hour. Put two of these humongous stars in the same system and their winds can collide during all or part of the orbit, creating both radio emission and X-rays.
Artist's rendering of a colliding wind binary.
Credit: NASA/C. Reed
Cosmic rays are subatomic particles -- mainly protons -- that move through space at nearly the speed of light. In their journey across the galaxy, the particles are deflected by magnetic fields, which scramble their paths and make it impossible to backtrack the particles to their sources. Yet when cosmic rays collide with interstellar gas, they produce gamma rays -- the most energetic and penetrating form of light -- that travel to us straight from the source.
XMM-Newton observation of the core of the very massive cluster Cyg OB2 located in the constellation of Cygnus, 4700 light-years from Earth. The cluster contains massive O-type stars that shine brightly in X-rays. Cyg OB2 #9 is seen as the bright star just below the central star, and in 2008 was determined to be a binary system. ESA's XMM-Newton and NASA's Swift space telescopes have now found evidence for the winds of these hot, massive stars colliding at the closest points of their orbits, resulting in a four-fold increase in X-ray emission. Hundreds of lower mass stars also fill the field of view, which spans nearly 22 x 16 arcminutes.
Credits: ESA/G. Rauw
Stellar winds, pushed away from a massive star's surface by its intense light, can have a profound influence on their environment.
In some locations, they may trigger the collapse of surrounding clouds of gas and dust to form new stars.
Two sets of measurements taken 5.5 days apart near the time of periastron — one in late June by XMM-Newton and one in early July by Swift — show that the X-ray flux increased by four times when the stars were closest together. This is compelling evidence for the interaction of fierce stellar winds.


In others, they may blast the clouds away before they have the chance to get started.

Now, XMM-Newton and Swift have found a 'Rosetta stone' for such winds in a binary system known as Cyg OB2 #9, located in the Cygnus star-forming region, where the winds from two massive stars orbiting around each other collide at high speeds.

Cyg OB2 #9 remained a puzzle for many years. Its peculiar radio emission could only be explained if the object was not a single star but two, a hypothesis that was confirmed in 2008.

At the time of the discovery, however, there was no direct evidence for the winds from the two stars colliding, even though the X-ray signature of such a phenomenon was expected.

This signature could only be found by tracking the stars as they neared the closest point on their 2.4-year orbit around each other, an opportunity that presented itself between June and July 2011.

As the space telescopes looked on, the fierce stellar winds slammed together at speeds of several million kilometres per hour, generating hot plasma at a million degrees which then shone brightly in X-rays.
This computer simulation shows the gas density around a colliding wind binary named WR 22. The star locations are marked by yellow dots, and decreasing gas density is indicated by the sequence of red, white and blue colors. In this simulation, a 26-solar-mass O-type star orbits the hotter and more massive (72 suns) Wolf-Rayet star WR 22. During closest approach, the more massive star's stellar wind is so intense that the region where they collide is actually forced back onto the O star. Such a collapse of the wind region does not occur with Cygnus OB2 #9, which makes it a well-behaved and important example of wind-wind interactions.

Credit: Univ. of Liège/E. R. Parkin and E. Gosset

The telescopes recorded a four-fold increase in energy compared with the normal X-ray emission seen when the stars were further apart on their elliptical orbit.

"This is the first time that we have found clear evidence for colliding winds in this system," says Yael Nazé of the Université de Liège, Belgium, and lead author of the paper describing the results reported in Astronomy & Astrophysics.
Dissolve sequence of seven Swift and XMM-Newton images of Cygnus OB2 #9. This group also includes the first still: Swift image from February 10, 2011.

Credit: NASA/GSFC/S. Immler

"We only have a few other examples of winds in binary systems crashing together, but this one example can really be considered an archetype for this phenomenon."

Unlike the handful of other colliding wind systems, the style of the collision in Cyg OB2 #9 remains the same throughout the stars' orbit, despite the increase in intensity as the two winds meet.

"In other examples the collision is turbulent; the winds of one star might crash onto the other when they are at their closest, causing a sudden drop in X-ray emission," says Dr Nazé.

"But in the Cyg OB2 #9 system there is no such observation, so we can consider it the first 'simple' example that has been discovered – that really is the key to developing better models to help understand the characteristics of these powerful stellar winds. "
Data from the EPIC instrument aboard the European Space Agency's XMM-Newton satellite were used to construct this image of the core of Cygnus OB2, an OB association located 4,700 light-years away. The cluster's massive O-type stars produce the strongest X-ray emission, which appear as bright sources against a background of weaker emission from hundreds of lower-mass young stars. The star nearest the center is Cygnus OB2 #8A, and the bright star directly below it is Cygnus OB2 #9. The colors correspond to different X-ray energies: blue, 0.5 to 1.0 keV; green, 1.0 to 2.0 keV; and red, 2.0 to 8.0 keV. The field of view is 40 arcminutes across.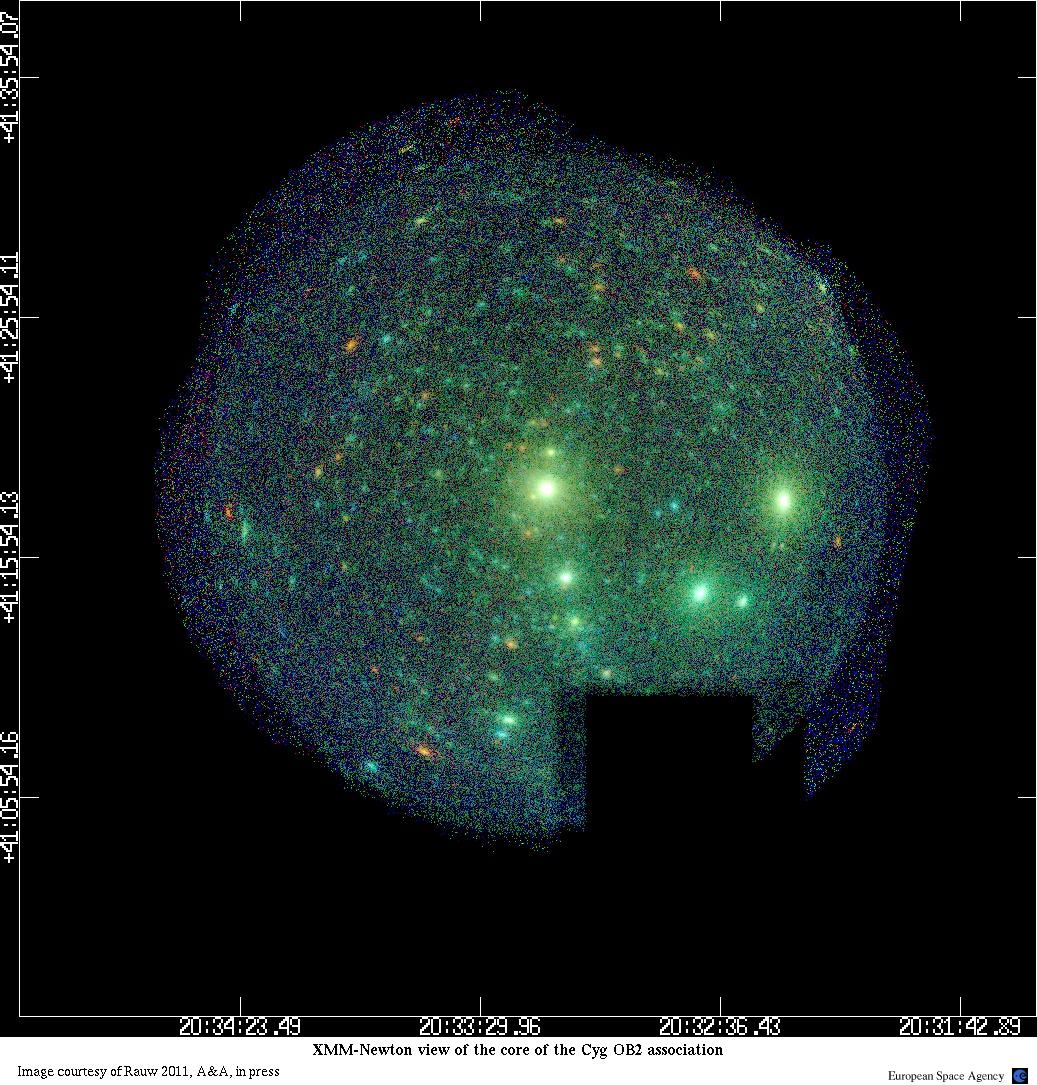 Credit: ESA/Gregor Rauw, Univ. of Liège
"This particular binary system represents an important stepping stone in our understanding of stellar wind collisions and their associated emissions, and could only be achieved by tracking the two stars orbiting around each other with X-ray telescopes," adds ESA's XMM-Newton project scientist Norbert Schartel.
To maximize their chances of catching X-rays from colliding winds, the researchers needed to monitor the system as the stars raced toward their closest approach, or periastron. The first opportunity arose in 2011.
NASA's Swift made five sets of X-ray observations during the 10 months around the date of periastron, and XMM-Newton carried out one high-resolution observation near the predicted time of closest approach. The new data indicate that Cygnus OB2 #9 is a massive binary with components of similar mass and luminosity following long, highly eccentric orbits. The most massive star in the system has about 50 times the sun's mass, and its companion is slightly smaller, with about 45 solar masses. At periastron, these stellar titans are separated by less than three times Earth's average distance from the sun.

Swift X-ray image of Cyg OB2 #9 from April 4, 2011.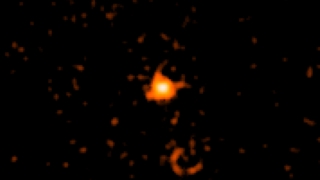 Credit: NASA/GSFC/S. Immler
Swift X-ray image of Cyg OB2 #9 from May 18, 2011.
Credit: NASA/GSFC/S. Immler
XMM-Newton X-ray image of Cyg OB2 #9 from June 25, 2011.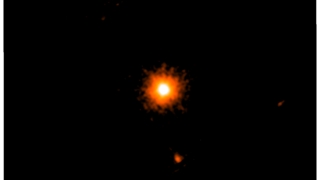 Credit: NASA/GSFC/S. Immler
Swift X-ray image of Cyg OB2 #9 from July 1, 2011.
Credit: NASA/GSFC/S. Immler
Swift X-ray image of Cyg OB2 #9 from October 7, 2011.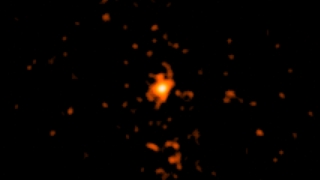 Credit: NASA/GSFC/S. Immler
XMM-Newton X-ray image of Cyg OB2 #9 from April 29, 2007.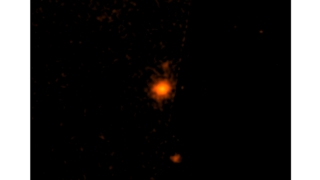 Credit: NASA/GSFC/S. Immler
Class O stars are very hot and extremely luminous, being bluish in color; in fact, most of their output is in the ultraviolet range. These are the rarest of all main-sequence stars. About 1 in 3,000,000 (0.00003%) of the main-sequence stars in the solar neighborhood are Class O stars.[nb 1][12] Some of the most massive stars lie within this spectral class. Type-O stars are so hot as to have complicated surroundings which make measurement of their spectra difficult.
O-stars shine with a power over a million times our Sun's output. These stars have dominant lines of absorption and sometimes emission for He II lines, prominent ionized (Si IV, O III, N III, and C III) and neutral helium lines, strengthening from O5 to O9, and prominent hydrogen Balmer lines, although not as strong as in later types. Because they are so massive, class O stars have very hot cores, thus burn through their hydrogen fuel very quickly, and so are the first stars to leave the main sequence. Recent observations by the Spitzer Space Telescope indicate that planetary formation does not occur around other stars in the vicinity of an O class star due to the photoevaporation effect
Class B stars are very luminous and blue. Their spectra have neutral helium, which are most prominent at the B2 subclass, and moderate hydrogen lines. Ionized metal lines include Mg II and Si II. As O and B stars are so powerful, they only live for a relatively short time, and thus they do not stray far from the area in which they were formed.
These stars tend to be found in their originating OB associations, which are associated with giant molecular clouds. The Orion OB1 association occupies a large portion of a spiral arm of our galaxy and contains many of the brighter stars of the constellation Orion. About 1 in 800 (0.125%) of the main-sequence stars in the solar neighborhood are Class B stars

Contacts and sources:
NASA

Full bibliographic information"The 2.35 years itch of Cyg OB2 #9 I. Optical and X-ray monitoring" by Y. Nazé et al., is accepted for publication in Astronomy & Astrophysics.