PhD student Paola Cognigni shows us this beautiful image of a fruit fly's brain and gut.
The brain is about 700 microns wide (the entire image is something like 1600 microns across): about the size of a pencil tip.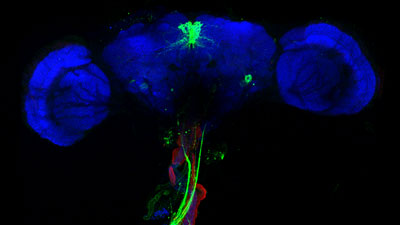 The image was taken in the Zoology Dept Imaging Facility on a Leica SP5 confocal system.
Paola Cognigni: "This video shows the anatomical and functional connection between the brain and the gut in the fruit fly, Drosophila melanogaster. This work is carried out in Dr Irene Miguel-Aliaga's lab in the Department of Zoology as part of a research project that aims to find and explain the interactions between internal organs and their importance in growth and health."
University of Cambridge
More info and images:
http://www.zoo.cam.ac.uk/zoostaff/miguel-aliaga/main.html
Music by Intercontinental Music Lab
http://www.intercontinentalmusiclab.com